Two great finds this morning while writing:
First,
LeechBlock
, a Firefox add-on designed to block those time-wasting sites that can suck the life out of your working day. All you need to do is specify which sites to block and when to block them.
This add-on has a ton of customizable features, allowing you to block groups of sites during specific days and time periods. You can even limit access to application's preferences to keep yourself honest during an unauthorized Facebook craving.
Thank you, James Anderson, for this gift to writers. Goodbye Facebook, hello productivity!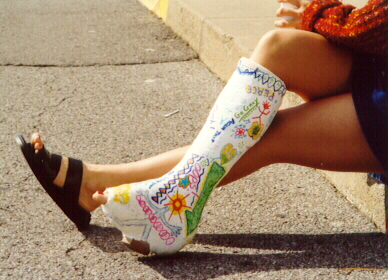 Second, my research on long leg casts led me to
this peculiar, possibly NSFW site
. Gimpix is a site dedicated to "exploring the sexuality of an attractive woman in a plaster of Paris leg cast."
The author of Gimpix explains his site in a 9-point
"Rationale" section
. Some highlights:
"My pulse quickens and I receive a powerful stimulation whenever I see a pretty woman with her leg in a plaster cast, either hobbling on crutches or staggering along in a walking cast!"
"Of the many orthopedic devices that exist, only plaster leg casts have such charisma."
"Watching a woman wiggling her toes is very seductive whether they are in a cast or not. But seeing them sticking out of plaster intensifies the allure."
"Also sometimes pleasurable for women is the warm feeling provided by the exothermic chemical reaction of the setting plaster, although one must be cautious to avoid high water temperatures, and consequently risk of burning."
Thank you, the Internet! My gift to you this Monday morning.